Learn more...
return with this interesting QR code...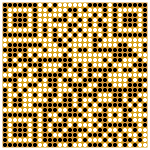 Some quotes...
This has certainly been the most stable, least frustrating option ... GoClubsOnline is reliable, clean, and easy to use.
- Tournament Director
I've used several different pairing programs. GCOL is the most stable, has the most options, and allows me to combine manual and automatic pairings. Many other important features ... are handled in one convenient place. This is the TD's weapon of choice.
- Tournament Director
I enjoyed using the software and hope other clubs take it as it does make managing the go club easier for us, etc.
- Club Organizer
A beautiful site! The aspect of the site is very agreeable and the dialogs are very friendly.
- Independent Developer
It all looks extremely well organized I must say. ... Great effort!
- Tournament Organizer
Using the system, within two tournaments we increased our paid up membership from 11 to 27, that's almost a 250% increase and a fabulous ROI!
- Club President
The system worked flawlessly [for the North American Student Oza Playoffs] and I would hope to use it again.
- AGA volunteer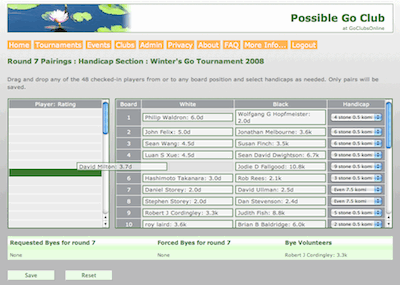 Illustration of drag-n-drop manual pairing.

Introducing

GoClubsOnline

:



"Number 1 in Club Automation!"




helping

club organizers and volunteers,



enhancing


the live Go experience,

and now the first to be Certified AGA Compliant with our Pairings Module.





GoClubsOnline now supports three types of tournaments, referred to as Game Formats, Normal, Team and Pair Go/Rengo Tournaments. See Tournament Pairings for more details.

Read more about GoClubsOnline from this earlier independent review and learn more about the AGA certification requirements.

Club Account owners enjoy free technical support via phone or email (English language only) and priority attention from our developers for enhancements and improvements.

GoClubsOnline is supported by Club Membership fees, the contributions of time and talents of our volunteers and sponsorship by Cirrillian Web Development of Santa Fe, NM.


Benefits for Club Volunteers
Club Organizers
... easily track your club membership renewals
... follow your membership trends in our new Dashboard

with integrated tools from GoClubsOnline. Learn more about Membership Management.


Tournament Directors
... provide on-line registration, days in advance of your tournaments
... collect registration fees ahead of time via PayPal*
... run the tournament with our Integrated Pairings module
... run a Team Tournament with team statistics
... increase membership sales
... capture lunch orders
... or export attendee lists to the major pairings programs

using GoClubsOnline. Learn more about Tournament Management and our Integrated Pairings Module.


Event Organizers
... provide on-line registration, days in advance of your event
... collect registration fees ahead of time via PayPal*
... increase membership sales
... capture lunch orders
... present workshops, classes, lectures and more

using GoClubsOnline. Learn more about Event Management.


School Club Organizers
... enjoy reduced rates

with an American Go Foundation approved teaching program. Learn more about support for Teaching Programs.


Club Librarians
... monitor your club's library catalog
... see what's on loan

because GoClubsOnline is ready to check-out. Learn more about a Library Catalog.


Club Members
... record the results of your amazing club games
... have them included in your AGA rating

and track your results in GoClubsOnline. Learn more about Game Results features.


Club Bean Counters
... review tournament profit and loss statements
... monitor club finances
... compare tournament and event finances in our new Dashboard

using the book-keeping tools in GoClubsOnline which is fully integrated with your events, tournaments and your club memberships and lets you know instantly how you are doing. Now may be a better time than ever to make sure you know your club finances. Learn more about Book-keeping features.


Club Webmasters
... embed your tournament offerings in your own web site
... works with HTML or WordPress sites

with integrated GoClubsOnline's listings and on-line registrations. Learn more about tournament management and how to offer tournament listings in your club website.


You can grow...
... your Go Community with the tools from GoClubsOnline, especially, when
keeping track of members,
offering more tournaments,
presenting more events (like workshops),
keeping track of finances,
offering services not previously available over the internet.
These are just a few of the many features of GoClubsOnline, designed by Go Players, built by Go Players for Go Players, to empower Go Clubs to build membership, easily hold tournaments, present events and manage the minutiae of club life. Login now and apply for a Club Account!


You can try it...
GoClubsOnline has been live since Dec 4, 2008 and a sandbox version is available free for testing and exploration. To try out our Sandbox version please mail your request to admin@goclubs.org.


Lastly
Don't forget because GoClubsOnline is Software as a Service (SaaS) you do not need to worry about maintaining the software, securing and upgrading it. We take care of everything for you. With a GoClubsOnline Club Account you can have peace of mind that your club tournament and event management software is online and functioning, and you can concentrate on what you do best - running your club!

* a club PayPal Account is required.



"Enhancing the live Go experience!"